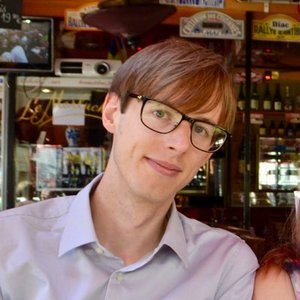 Andrew Cropper
---
I am a junior research fellow at the University of Oxford. I design machine learning algorithms that learn to write computer programs. I focus on inductive logic programming (ILP), which combines machine learning and mathematical logic. I developed the ILP systems Metagol and Popper.
I am always looking for collaborators so please contact me if you want to work on ILP.
---
Publications
Journals
Conferences
Workshops
SLD-resolution reduction of second-order Horn fragments
S. Tourret and A. Cropper
Termgraph 2018
Identifying and inferring objects from textual descriptions of scenes from books
A. Cropper
ICCSW 2014
slides
Others
Inductive logic programming at 30: a new introduction
A. Cropper and S. Dumančić.
Under review.
Theses
Efficiently learning efficient programs
A. Cropper. PhD thesis, Imperial College London, 2017.
Modelling stock volume using Twitter
A. Cropper. MSc thesis, University of Oxford, 2011.
---
Talks
Inductive logic programming UC San Diego, 2021
Learning programs from failures Potsdam, 2021
Learning programs from failures MIT, 2020
Learning higher-order logic programs KU Leuven, 2019
Inductive general game playing KU Leuven, 2019
Playgol: learning programs through play KU Leuven, 2019
Inductive general game playing MIT, 2019
Playgol: learning programs through play MIT, 2019
Playgol: learning programs through play Machine intelligence 21, 2019
Inductive general game playing Dagstuhl, 2019
Playgol: learning programs through play Dagstuhl, 2019
Learning algorithms using logic University of Oxford, 2019
Learning efficient logic programs MIT, 2018
Learning efficient logic programs Dagstuhl, 2017
Learning higher-order logic programs Dagstuhl, 2017
Learning efficient logic programs Machine intelligence 20, 2016
Logic-based learning of programs. UC Berkeley, 2016
Metagol. Dagstuhl, 2015
Predicate invention in meta-interpretive learning. Wakayama University, Japan, 2014